| | |
| --- | --- |
| | This page, Keahi Keegan, belongs to Sakky~ Don't touch it,or you can feel the wrath of music and awesome pink hair |
This page, Keahi Keegan, is currently under construction. Please bear with the changes made by the author.
---
"Look at them, smiling and laughing with their corrupt minds, it disgusts me, however, you and me are different. We are Divergent. We are stronger, better, in every way possible and they are just lowly peasants. You are part of us, you derseve to be added to the selective gang of Divergence, so come with me and together we can take over the world! After all, perfect leaders make the perfect place for all and right now this place reaks of stupidity, war, lies, fear and selfishness. Yep, this world is everything these factions are suppose to stop. This is why we are different, 'cause we are Divergent... hmm maybe I should pretend to care a bit more..."
— Keahis' Thoughts
Keahi Keegan
Alias(s)

Key (all)

Characteristics

Status

Active

Race

Human

Birthdate

December 13th

Birthplace

Dauntless

Gender

Male

Age

17

Blood Type

B+

Education

Normal

Appearance

Hair Color

White

Eye Color

Red

Vision

20/20

Skin Tone

White

Height

6'2ft.

Weight

200lbs.

Medical Concerns and Ailments

Divergent

Professional Status

Occupation

Initiate (transfer)

Previous Occupation

Student

Partner(s)

Candor

Previous Partner(s)

Dauntless

Base of Operations

Personal Status

Sexuality

Bisexual

Marital Status

Single

Debut

Debut
Keahi Keegan is a 17-year-old teenage boy who was originally from Dauntless but transferred to Candor. He transferred in hope to find Divergent people as he decided to find people just like him and build an army to destroy the factions. He is the main villain of the storyline called Honesty Vesus Lies and is bisexual.
During heir Aptitude Test, he was stated to be good for either Dauntless, Erudite, Amity, Candor and Abnegation, however, this was simply because Keahi used his Divergence to force himself to have all five factions as his results. He is actually proven to be good in two factions, Dauntless or Erudite but even knowing this Keahi choose Candor. He has little care for honesty but due to his Divergence, he can ignore the Truth Serum and as so can lie freely without anyone realizing. Even though he is part of Candor he regularly goes to The Tower and even goes as far to sleep there.
Keahis' plan is to unite as many Divergent people and rule the world, a pretty basic villain story, however, Keahi lies to recruit his Divergent army by telling them to join his family for other reasons. It is said that once Keahi has marked you with the symbol of Divergence then there is no way to escape Keahi.
Currently, Keahi has his eyes on Lucy Tai Lute and is pretending to be her love interest. To dampen his plans she recently came out to be homosexual causing a stir. Although Keahi is 17 he is still going through his Initiate Training as his birthday is so late in the year he was added to the next batch of Initiates rather than the ones before. This makes Keahi the oldest Initiate ever.
Appearance

TBA

TBA
Personality and Traits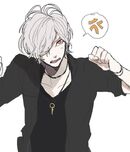 TBA
TBA
History
Keahi Keegan
Main Article: Honesty Vesus Lies
Keahi Keegan was born in the Dauntless faction on December 13th. He is the last in his family. He later transferred into Candor.
Relationships
Trivia
Keahi Keegan is based on Subaru Sakamaki from the anime series Diabolik Lovers
This was the first male character the author created

It was also technically the first character page the author created

Keahi means fire and Keegan is the son of a god as such his name means Fire God joking about how he can be seen playing about with a lighter