| | |
| --- | --- |
| | This page, Yui Sakai, belongs to Sakky~ Don't touch it,or you can feel the wrath of music and awesome pink hair |
This page, Yui Sakai, is currently under construction. Please bear with the changes made by the author.
---
"We don't cry because we are weak, we cry because we have been strong for to long... Nyan!"
— Yui explaining crying is not weakness
Yui Sakai
Alias(s)

Lil' Cat (Ame)
Kitty-Kat (Friends)
Yully (Kira)
Kat (Others)

Characteristics

Status

Active

Race

Human

Birthdate

Jan 19th

Birthplace
Gender

Female

Age

19

Blood Type

B-

Education

Normal

Appearance

Hair Color

Brown

Eye Color

Red

Vision

20/20

Skin Tone

White

Height

5ft.

Weight

160lbs.

Tattoos and Unusual Features

Cat Ears (via Cat Potion)

Professional Status

Occupation

Student

Partner(s)
Previous Partner(s)
Base of Operations

Personal Status

Sexuality

Hetrosexual

Marital Status

Taken

Spouse
Allies

Ame Tai Lute
Kira Sakai
Moka Hippon
Jill Flourish
Jack Nōtarin

Enemies
Relative(s)

Kira Sakai (Sister)
  Yui Sakai is an Amity-born girl who decided to move to Erudite. This left her little sister, Kira Sakai, and her best friend Moka Hippon, all alone and confused in Amity wondering why she would of ever leave as they saw no signs on why she would join Erudite. She went against everything, her gut told her to stay in Amity, her Aptitude Test stated she would be best in Dauntless yet she choose Erudite for she loved learning but not only that a boy named Ame Tai Lute was there and Yui had been seeing him in secert in hope that one day they could be together in Erudite.
Appearance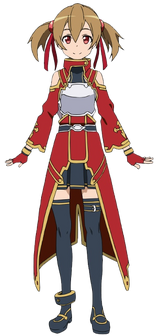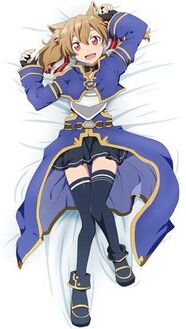 Yui Sakai has short light brown hair, light red eyes and she is very pale. Yui wears a red and gold outfit that includes: Gloves and a coat with tails on it. On her top half of the coat, she has a gold emblem which is a cross. The cross symbols her friendship with Kira, which can also be found on her back and right beside it is a golden Erudite logo as well as a Golden Amity Logo on her left shoulder. She also has a plain black tank top underneath. As well as all this she has an armored breastplate and a skirt beneath the coat and thigh-high socks with gold rings, and cuffed boots laced with gold. Yui also wears red bangles in her hair to put it in two ponytails even though it is short The red is to show she is still part of Amity. The red bangles have ribbons that come out of it to make it have a bow effect. Yui can also be seen commonly sporting the ears and tail of a Cat, courtesy of her Cat Potion she made after Erudite Initiation.
Yui has spare clothes of yellow that looks the same as her amity clothes. She has them in our Erudite dresser just in case of a 'fashion emergency' and if she needs to go to an Amity funeral even though she would have to hide who she really is.
Personality and Traits
Yui - as you can guess from any Amity person - is a bubbly peace maker! She has a bad habit of not letting anyone talk and take over with her chat. Even so, she is loved by lots of people. Unlike as her appearance tells you she is a big nerd and loves to work in the Erudite labs. She has a bad habit of at the end of a big sentence to say -nyan or -nya due to her Cat Potion making her half cat. She has been seen - mainly by her boyfriend - grooming and acting like a cat but this has mainly happened after she drank some peace serum she got off of her mother on Visiting Day! Even though she is cute and cuddly she can be fierce something that makes her confused as a Erudite-Born. Even so, she only get's angry when someone has hurt or bullied her boyfriend/friend/s. She also gets angry after Evelyn tried to make no Factions but even so she was stuck in prison with her boyfriend most of the time during the 'Outside World' being revealed.
History
Yui Sakai
The Day Of The Choosing Ceremony
I talk non-stop as my nerves take over. Today is the day I will have to choose me new life, my new faction and I get to live with Ame! I can't help but look at my family as I speak to one of my friends, Moka Hippon. My little sister knows nothing about what I'm about to do but my mother and father know. I told them just a month before I turned sixteen. I look around at the group of red and yellow which is mostly teenagers of sixteen-year-old. It makes sense since the Choosing Ceremony is for us. I give another look at my family to catch the eyes of my mother. She gives a faint smile and the thumbs up saying she is still happy with my choice. That small assurance helps my nerves but even so I can't help but feel like I am betraying my family.
"Hey, Yui are you okay? You seem... off?" Moka asks with a frown. Trust her to realize I am not myself. "I'm just nervous, we have to cut our hand! That's crazy!" I lie a little not letting her know my true intentions. She laughs and agrees with me going off into normal Amity chat. I notice my other two friends, Jill and Jack who are going out but by the face they are pulling at each other no one would be able to tell. "Moka, what's wrong with Jill and Jack?" I ask stopping her chat about some cute boy. She knows I'm not really interested in that kind of stuff but even so she can't help herself. She stand on her tiptoes looking over to see. She is smaller than me.
"That's weird, maybe they had a fuss?" Moka says before running towards them. "Hey!" I scream as I catch up to her. She goes off to Jack and waves me off towards Jill. Makes sense. If we both come up to them at the same time they won't talk. Anyway Jill is closer to me than Jack so it also makes sense in that way. I walk in front of her smiling. "Hai! How's things?" I laugh to try and get her attention. Gossip-loving-Jill can't resit. "Horrible! Jack just told me what faction he's joining..." Her voice starts to hush. We aren't suppose to tell people our faction we are joining but we all knew Jack would tell Jill and Jill would tell Jack. I notice her eyes watering. That can't be a good sign. "He's joining Dauntless!" Jill cries I cover her mouth quickly so no one else hears. She nods a thanks to me knowing I'm trying to help her.
Dauntless is a cruel faction that we sang about when we were little. They send all the people who can't climb or aren't fit to be Dauntless to be Factionless. I imagine Jack being throw out of Dauntless due to him not having the ability of a true Dauntless member. It makes me shudder. "I'm sure he will be fine Jill, Jack is strong!" I say to try and make her feel better but it is true. Whenever we had to pour water on the plants we couldn't lift up the watering cans because they were always to heavy but Jack lifted them up with ease each time. I take a moment to think and reassure myself. Jill looks at me in the eyes. "I'm joining another faction to although..." she mumbles, her tears now flying down her cheeks. I bite my lip. That is a problem. If Jill was to stay with Amity then they are chances, due to his past, Amity would be fine with him coming over or Jill going to see him but if Jill joins another faction their is a chance they might never see each other again.
"You should make amends with him. If your not going to see him again then why leave him with bad thoughts of you?" I smile a little. She opens her mouth to argue but quickly closes it. "Your right!" Jill smiles making it seem like the sun just got brighter. Jill runs off towards Jack screaming his name. Moka appears next to me again. "You hear what's happening then?" I just nod, there is no point saying it out loud. "Hey, at least we will still be together!" I try to smile but I can't help but frown knowing her fantasy is fake...
**********
We are the last faction to arrive into the school building. We got a truck after we got to the edge but it took awhile to get here since Amity is pretty far away from our school. Well, our old school. I line up with the rest in order of our second names. A's to the beginning, Z's to the end - although I don't think there is anyone with the surname beginning with a Z. I am close to the end of the line but know that I will be quite close to the start of the people who chose their new life since it goes in reverse order. A women is white and black - A Candor - steps to the front. I know the order is Dauntless, Erudite, Candor, Amity then Abgetation but I thought it was Erudite's turn. I watch as she starts to talk but I don't listen. All I can do is stare at the table. On the table there is a knife so we can cut our hand and pour our blood into a bowl. The bowls we have are five metal bowls which are only used for Choosing Ceremonys. Inside one of them will have soil to represents Amity. Another one will have stones that represents Abgetation. One will have coal on fire to represent Dauntless; I can just see the fire sticking out. There will also be glass for Candor and lastly water for Erudite. The one were I will cast my blood onto and turn the water a pink color. I stare as I notice the first person to step forwards and cut his hand. He chooses his home faction, Dauntless, which doesn't surprise me. By the time it gets to me everyone has chose their home faction. No one has transferred...
"Yui Sakai!" The Candor woman says but it sounds so quiet. She hands me the knife which she has cleaned about fifteenth times already and smiles at me. Her attempt to calm my nerves probably. I take the knife, my hands shaking. This is it. Is all I can remind myself. I slice my hand and wince as the pain hits me. I always thought it would be painless. Why did I think that? I realize that I am just standing there and the blood is dripping onto the floor. I move slowly as I know everyone will be watching me closely. I walk past the Amity soil and place my hand over the water. Drip! Drip! My blood falls onto the water in slow-motion. I am the first to transfer. I am now part of Erudite. I can no longer go back. I walk back near Erudite's area and I can't help but notice my friends gawking at me. I notice how upset Moka is. I left her alone. "I'm sorry..." I mumble to her but I know she will be too far along the line to ever hear it.
**********
I watched as Jack put his hands over the coal making a sizzling sound. I watched as Moka put her hand over the soil, almost crying. I lastly watched Jill put her hand proudly over the glass. Dauntless, Amity, Candor and Erudite. We chose our path and chances are we will never past each other again. I let myself cry a little. My past now gone, my future is only where I can look. I try looking back at my family to see them all smiling expect my sister. She is crying. She doesn't understand. I know she will never know now, 'Faction before Blood'.
Did I make the right choice? I ask myself as I follow the Erudite towards the stairs. We were second to leave taking the lift down. It took us a total of three times before everyone went down the stairs and by that time I notice the Abgetation calmly going down stairs. There feet in sync with each other. I listen to the Erudite feet as they are in chaos. Some are angry. Others soft, scared? Others were like mine, out of sync. Tap! ... Tap! ... I don't know why but I lag behind with some other new Erudite transfers and parents who are upset with losing their friends and families. I try to jog forwards staying close to the front but all I can do is sluck back to the end.
*********
I find another Amity-born transfer later on when we are halfway to Erudite HQ. We were all put into cars with solar panels on them. It is quiet and blue. Something the Erudite will be proud of. I stare at the Amity-born transfer and give a small smile. He smiles back more happily, happy with his choice but I see his hidden sadness. I think everyone will miss their parents but I know there is always the chance of my parents showing up on Visiting Day! With that in my mind I start talking to the driving who goes on a rant about the solar panels. Surprisingly I listen to everything soaking up the new details.
Yes I chose the right Faction. Only an Erudite would enjoy listening to a drivers rant about the calculations and the amount of energy it takes to make the cars at first. There is no doubt now. I am an Erudite!
The start Of The Hardships
I walk into my dormitory, my new home for now. We all had our own beds but they look weird. They have blue covers and lighter blue pillows but the bed itself is made from something I have never seen before. I stare closer at it dropping the few belongings I took with me. I watch as a lot of people don't seem fazed by the bed. "Its metal country girl!" A old Candor girl shouts at me. I thank her but she just sighs and jumps into her bed. I sit on it. Nothing is different by it. I smile at everyone who all seem to be transfers. All the Erudite-born went into another dormitory. "I'm Yui!" I say with joy but no one cares. Some give a small nod but everyone else ignores me completely. The Candor sighs again making sure its loud enough for all to hear. "For your information. We don't care. Shouldn't you go back to your real faction!" I laugh and say how this is my faction. She says whatever, sighs again and starts to watch the liquid in some bottle turn upside down to back to where it is. I lie down on my bed. I thought this place would be where I bellow so why is everyone ignoring me? I let myself go to sleep knowing that it will only get harder from now on.
**********
I wake up with someone shaking me. I moan a little as I roll over, my hair almost like a stack of hay. I know how it always looks after I nap or sleep. The person who was shaking me is a girl. Her blond hair tickles me as I look at her. I stare into her green eyes. She wears blue but I know she's from Dauntless by the black top she's wearing underneath also most like she is reminding herself where she use to belong.
"We are all going into a hall. There telling us what we need to do to become Erudite." Her voice sounds harsh but I know its only because that's how she is use to talking. I thank her as I quickly brush my hands though my hair fixing it... kind of. I follow the Dauntless-born to a huge hall which has all the new Erudite transfers and Erudite-born 'newbies'. "How long have I been asleep?" I ask the girl as I sit down next to her. The girl shrugs. "About half an hour?" She tell me with a smile. I smile back. She's trying to be friendly, she might be my first friend here. I think to myself as I realize how lucky I am. I'm not going to just have Ame... if I can find him! I look around trying to find him but a sea of colors, mainly blue, so it goes to waste. "Ignore Heather. She thinks she amazing because she's moved factions three times now!" Before I can answer her back with my question of 'how is that possible?' when someone walks to the middle of the hall where everyone can see them. I can't see them that well but by the clicking if high heels I know its a female. Everyone goes silent. All I know is she must be important. Very important.
**********
I stare the power that almost seems to float around her. All I can see is her blond hair straight and fine cut. She opens her mouth to speak and all the whispers disappear.
"Welcome to Erudite." Her voice booms and sounds strict and it makes the Dauntless girl sigh. Must remind her of home. "From this day forward people you will look at you like you are Erudite, brainy pupils." The word 'pupils' sounds weird to be called. I always think of pupils as school but after being moved to a new faction I thought I will be the teacher. I stare and shake my head. I am wrong. The woman is the teacher and everyone in Erudite is her pupils. "I am your new leader, Flint Peterson. You may call me Jeanine or ma'am." She smiles trying to seem friendly but it's too late. Everyone is either scared of her or was already. We know who is boss.
I stare at Jeanine as she goes on about the things we will be doing to improve Erudite and how we will be a big part of Erudite if we past the indication. I shiver. I never knew we could become Factionless. This is news. I stare at my new friend with a small bit of fright. She gives a smile as if to say "stay strong" and I smile back a little. "You will be fine..." she whispers so softly. I never knew anyone from Dauntless could be so quiet and kind. I grab her hand a squeeze it. It's something I do whenever I am scared or nervous. I didn't mean to do it but I sigh as I know bad habits won't just leave me even if I do change into an Erudite. Luckly she doesn't mind and we both start to focus more on what Jeanine is saying.
"You will chose your own subjects in which you will learn but first you will study for your first indication task, an intelligent test!" Moans and cheers erupt the hall. I am with the majority - the groans.
"Im going to end up Factionless if this is all we get" I hear someone mumble next to me. I almost agree with them but I can't. This is what Erudites are proud of, their brains. "I will have to start studying straight away but what is the test about," I mumble more to myself but the Dauntless girl shrugs and smiles at me. "We can study together?" Before I can agree I realize that everyone is leaving. The sound of people chat and of the upcoming events is bursting everywhere. I mange to shout that I want to study over the crowd and we both go back to our dormitory, smiling and thinking about how it is great that we finally have friends here.
The Reason I Have Joined Erudite Is Shown

Most of the days I spend studying with Ida - the Dauntless girl I befriended - but even so none of the information seems to stay in my mind. I start to wander about, my study stuff in my hands but I ignore the urge to study, I want a break from it all. I stand there, dazed a little as I think about what has happen for the past couple of days. I remember the amount of studying I have done with Ida and I make me sigh. Everyone is down in the dorms as all we have been doing is studying then sleeping and sometimes we eat. Ida and I did find out what the test was about just general knowledge but there is a main, random subject each year. We did then next best thing to that, study everything and anything we can!I start to walk with no certain place on mind as I realize I have just been standing in the middle of the dorm corridor.  

Ida had gotten some really nice Erudite clothes but I am still in my Amity clothes. I stare at a window which reflects a person back to me. I know it is me, it has the same hair as me and the same face and clothes but yet it doesn't feel like me. The person looks tired and her hair is messy, nothing like the messy they use to have it in. The person moans at their self. I sit down for a moment on a bench and look past the reflection. I see lights and towers, all in some shade of blue, and I barely see the outline of the Dauntless HQ. "Jack will be in there, wonder if he has any friends yet," I think out loud, a habit I have gained. 

The thought of Jack soon made me stop thinking all together, I already know what my mind will try to tempt me to say out loud next. I try to think about something else instead, and quite quickly come up with it.  

The dorms have been recently tense due to us all running about and revising for the IQ test. Fights have took place while friends have been made but yet the days have gone by so quickly and we all have had a few shares of sleepless nights due to nightmares or all-nighters.  

I look back at myself in the window, clearing my mind. I finally notice the purple and blue bags I have under my eyes which are so noticeable yet invisible to me now since I am growing use to seeing them. I smile a little as I notice how they are bigger than the plums I use to harvest when I was in Amity. Then the quick thought of Moka escapes and I can't help but cry out for her. I start to cry and cry and cry. I had left her there, alone I start to wonder if she made friends or if she sits in the class learning about the ways to plant carrots so they are violently orange that we have heard about one hundred times. No, it is too late for that she will be in her dorm. Will she be lying on her bed having a sleepless night or sleeping calmly and happily? I shake my head and cry some more. Of course she would have sleepless nights, she was known to have Insomnia and I seemed to be the only one who stopped her bad dreams. 

"Hey, Amity girl, are you okay?" The voice scares me and I look up quickly knowing my eyes wil be stained red and be puffy from the crying for my friends. The voice is from a girl who is wearing all blue but I haven't seen her in my dorm. I realize she is a Erudite-born, not a transfer but she seems rather young. She smiles a little before sitting down. "I'm Lucy, do you want to talk about your lost of family?" Her voice is so kind and gentle it makes me feel like a small child and I shake my head, not sure how to answer. Lucy smiles again, her blue eyes seem to sparkle. She grabs my hand, all to suddenly, scaring me a little but she pulls me up from the seat and starts to take me somewhere. 

"Where are we going, Lucy?" I ask all to lamely. "To my brother, he knows how to help people who are upset, it's his thing!" Lucy giggles making me feel better as I follow her, hand-in-hand. 

**********

Lucy stops in front of a door, it looks exactly like ours but instead the light blue label read 'Erudite-born Indicates.' instead of Erudite-transfers. Lucy opens it up and starts to shout about her being here to see her big brother, it's then I realize that chances are Lucy hasn't even been though the Choosing Ceremony yet. Everyone looks up at us and I wave, rather nervously, not sure what I am to expect from these guys but soon people are around us and telling us that Lucy's brother is away. I stop for a moment hearing everyone talk about him until I realize his name. Ame... "Your brother is Ame!" I shout at Lucy, staring at her. Now that I look at her closely I can see Ame in her and I start to wonder why I wasn't able to notice before. Lucy just smiles and nods, like it was a secret she was trying to keep. 

"Everyone knows my brother, it's so weird!" Lucy says laughing and everyone laughs with her. The Erudite-borns must know her really well then, I think as I laugh a little too. Slowly everyone stops laughing and a girl Erudite-born comes up to me. I smile, wave at her and she smiles back making me really happy almost like I knew these people all of my life. 

"So your a transfer then? You should get some Erudite clothes, I got some spare if you really want some," I gasp and tell her that I could really do with that. She hands me some blue clothes that look much like a uniform and points to the bathroom, still smiling. I can't possibly smile any more. I go into the bathroom and get changed and then I heard the room go into chaos. I hear my name said by Lucy, people start talking about me. 

Since I am born in Amity I am use to people talking about me, it's almost weird not knowing everyone in Amity and as I try to think about their names and faces I realize I can no longer remember half of them, weird. Even so I get dress and look at myself in the mirror. I smile looking at it. Blue and red. blue checkered shirt. Blue blazer. Blue skirt. Blue socks. Blue shoes. Red tie and red ribbons only because I have no heart to take them off, I am still born in Amity, I still have Amity in my blood. 

I come outside and the room goes silent. Then it becomes loud again, everyone saying I look really nice in my new clothes. I giggle and smile and thank people. I then go up to the girl and give her a hug which stutters her at first but she smiles and hugs back.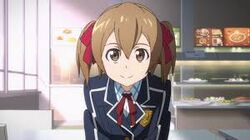 Then I hear a voice, a voice I know, a voice I can't forget, a voice that is nearby yet so far away and it whispers to me. "You finally look nice, Kitty-Kat," that voice. I turn around so fast and see his face. Ame. I hug him so tight making him chuckle. "Hey, calm down!" He jokes, he chuckles me, he makes me smile. "Don't leave me again," I whisper into his ear and he nods, the promise sealed just like that faithful day where I promised him I would join Erudite. 
I hear someone whispering and then I remind that I am not alone with Ame but with the other Erudites. I jump down and start to blush trying to pretend that nothing happened. Lucy stares at her brother, confusing framed on her face. "Sooooo... how long have you been going out with this girl?" Lucy asks and I can't help but laugh. "Of course you didn't tell her!" I laugh again and again. Ame just rubs the back of his neck and quickly explains how and when we met and during it I sit there, smiling, happy that I found him again. 
"I wouldn't of joined Erudite if it wasn't for Ame!" I inject in, everyone is still staring at Ame but a few look at me. Then questions burst though, most of them the same. The main one asking me what I should of joined and I bite my lips. Dauntless a voice tells me to say, that was what I got in my test. I lie although, say I was to join Amity. I lie for my sake and Ame's. He has no idea about it yet either. I just smile and act like a Amity, like I have always acted. 
Ame just smiles, almost like he has no idea what else to do. Then he takes my hand and we leave. I smile and wave as they smile and wave back but inside I feel sick. "Never wanted to be part of Candor anyway" I whisper under my breath so no one can hear. 
The Next Steps
The Results!
Relationships
Fears
Yui's fears are only guessed as she has not been in the fear simulation as of yet
Fear of being lost (symbolic) - Shows how Yui doesn't want to be alone during her death or at all
Fear of her friends or family dying - She doesn't want them to die
TBA
Trivia
Yui Sakai is based off the character Silica from the anime, Sword Art Online
Yui Sakai was originally own by Pichu
Yui Sakai was going to be in Dauntless at first but that changed.
Yui got her tattoos after hiding at Dauntless as her boss in Erudite told her to do.